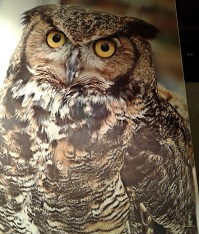 It is with a heavy heart that I report that Godzilla, our educational Great Horned Owl, had to be put down.  She was in her 20s and was an amazing education bird.
Godzilla had spent ten years at another facility before being transferred to Operation Orphan Wildlife Rehabilitation.  She was in our care for eleven years.
She had an amazing personality and was a beautiful bird and commanded respect.  She will be missed by many but missed the most by me.
R.I.P. old girl.  My hope is that the last eleven years of your life was enjoyable.
– Fran
Copyright 2017 Fran Kitchen
Operation Orphan Wildlife Rehabilitation, Inc. is a 501(c)3 Non-Profit Organization and does not receive federal funding.  We are supported entirely through private donations, memberships, and proceeds from our education programs.