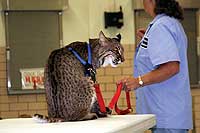 Almost everyone likes surprises—-to some degree or another. On the other hand, some are better if they never happen. This type of surprise is true of the story I am about to tell.
One November evening, I was doing a program at a local assisted living facility. When the program was completed, a couple of the residents came up to me asked for a business card. I had left my cards in the van so I told them if they didn't mind waiting until I put the animals in the van, I would return with cards for them.
I put all the program animals in the van, grabbed my business cards and ran back into the facility. I was gone maybe five minutes. When I got back to the van I jumped in behind the steering wheel, turned the key and glanced over to my right. Much to my surprise, I saw the "Bobbi" the Bob Cat sitting in the passenger seat ready to go for a ride! I got out of the van, ran around to the passenger side, opened the side door and unfastened her leash from the door of the transport carrier. I always attach her leash to the door for safety purposes. This particular carrier was new and the kind that folds up. When I looked at it, the one end had collapsed, so she just walked out and went to the front seat. She really did look as if she was ready and rearing to go for a ride! I got her back in the cage with no difficulty and she was NEVER put in that cage again. I chuckled all the way home.
We lost this animal July 11, 2014. She had been placed with me at less than 4 months of age when Division of Wildlife took her from a woman that did not legally possess her. She was un-releasable because the woman had all four feet declawed and the fang teeth removed. She spent 22 years with my husband and I and was a voice for the wildlife. Wild animals are not pets. She deserved to be free, but that was not possible. This is the only animal I have ever had mounted, and the reason is simple: Her story needs to continue and hopefully educate others in the process.
~ Fran Kitchen
Copyright 2017 Fran Kitchen
Operation Orphan Wildlife Rehabilitation, Inc. is a 501(c)3 Non-Profit Organization and does not receive federal funding.  We are supported entirely through private donations, memberships, and proceeds from our education programs. To Donate visit our website at: www.operationorphanwildlife.com