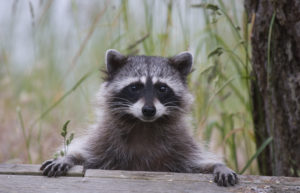 Raccoons are PROHIBITED FROM BEING REHABILITATED in Ashtabula, Belmont, Carroll, Columbiana, Cuyahoga, Geauga, Harrison, Jefferson, Lake, Mahoning, Monroe, Portage, Stark, Summit, and Trumbull counties.  Nor may they be taken across county lines. If you find there are raccoons nesting in your house, they need to be removed ASAP!  This year there will be more counties added to this list.  What makes a county a "kill county" is if Raccoon Rabies has been in that county or a surrounding county.
Despite not being able to take in raccoon, we still receive a huge number of calls on them every year. To prevent raccoon infestations, I would like to give you some tips that will not only keep them from being a nuisance but will keep them safe as well. If you make things uncomfortable for them, the raccoons won't stay.
1. Please put a chimney cap on your fireplace and your furnace chimney; raccoons like to go down them and build nests.
2. If you have broken boards in your eaves or roof, repair them, as they can get into your attic.
3. If tree branches are too close to your home, it makes it easy for raccoons to jump onto your roof, having easy access to your chimney.
4. IF YOU FIND A BABY RACCOON, leave it for its mother to get –she will get it in the evening. If they nest in your home, when Mom is out getting food, place her babies in a box and put them outside where she can easily get them. Put a hot water bottle wrapped in a rag in the box to keep them warm.
5. Don't put cat or dog food out late in the evening. By allowing them to eat from the domesticated animal's dishes, you could be transferring disease and parasites. Also, if they eat cat or dog food, they will become a nuisance animal, ending up at the first farm or house where they can find it. They would then be killed because of their nuisance.
Enjoy the wildlife, and educate yourself on how you can share this world with them in a safe manner. Baby season is going to be here soon, so please share this so others will know how to prevent raccoons from becoming a nuisance and to keep them safe.
WILDLIFE PROGRAMS AND DISPLAYS
If you would like to see many of these animals up close, please consider booking one of our Wildlife Programs or Displays that are reasonably priced and perfect for Organizations | Schools | Churches | Campgrounds | Nursing Homes | Fundraisers | Displays at Events. All money generated from the programs & displays goes right back into the care of the wildlife.
For more information about our programs, visit our programs page.
Copyright 2017 Fran Kitchen
Operation Orphan Wildlife Rehabilitation, Inc. is a 501(c)3 Non-Profit Organization and does not receive federal funding.  We are supported entirely through private donations, memberships, and proceeds from our education programs. Click here to donate.
Save